Cruises in Paris
Cruise Tours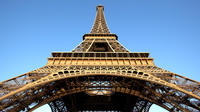 A 3 days holiday tour in Paris to discover the main attraction of Paris with the
Eiffel Tower, Seine Cruise with an amazing lunch at the Eiffel Tower.
Day 1 - Paris
Arrival at Paris CDG airport  meet your driver and transfer to your hotel in Paris center by a private car. Check in at hotel. Overnight at hotel 3* Belta or similar.

Day 2 - Paris - Eiffel + Lunch - Seine Cruise
Breakfast at Hotel. Later reach the meeting point to start a tour of Paris. Guided tour of Paris where you will discover Paris from the river while sailing on the Seine River Cruise and a great lunch at the Eiffel Tower. Return back to your hotel. Ovenight at Hotel.

Day 3 - Departure
Breakfast in Hotel. Private transfer to Paris CDG airport.
(no rating)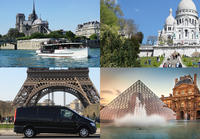 Discover Paris through five different tours, taken over the course of two days. Explore the Louvre Museum, take a city tour by private vehicle or electric bicycle, and embark on a Seine River cruise in the City of Light. Then follow in the footsteps of Parisian artists during a private tour of Montmartre, and visit Île de la Cité (Island of the City) for wine and cheese tasting. Priority entrance is included at museums and monuments.
On the morning of your first day in Paris, receive a VIP welcome reception at the tour office. Sip tea or coffee while a personal concierge provides a detailed schedule and other relevant information about your 2-day package, which includes five separately guided tours on foot, by bicycle, by car, and by boat, scheduled across two different days.

Visit the Louvre, see Paris neighborhoods, explore Montmartre and Île de la Cité, and take a Seine River cruise. At each destination, meet certified guides who inform you about the history of Paris through amusing anecdotes during private tours or small-group tours limited to a maximum of six or 10 people. You'll have skip-the-line access to monuments and museums visited, and have time to grab meals and find your own transport between activities.

See the Itinerary below for a sample schedule, subject to change.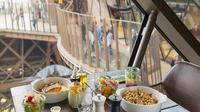 Enjoy Paris at your own pace with a 1 or 2 day hop-on hop-off sightseeing bus pass. Hop off at the Eiffel Tower, skip the lines waiting to enter, and enjoy lunch in the Tower. Cruise through Paris along the Seine, taking in iconic monuments along the way.
Discover Paris with a sense of freedom that group tours don't provide. This 1 or 2 day pass for an open-top hop-on hop-off sightseeing bus will ensure that you get a bird's eye views of sights throughout this sensational city.

Hop off at strategic stops to visit the Louvre Museum, Eiffel Tower, and many other of the city's iconic sites. The onboard audio guide, available in 8 languages, provides a narrative of the monuments and landmarks, from Napoleon's Arc de Triomph at the end of the Champs-Elysées, to the magnificent Opera Garnier.

When you start to feel hungry, you can hop off at the Eiffel Tower, skip the long lines, and enjoy lunch prepared by famous chefs at this emblematic monument of Paris. See Itinerary section for a full menu.

Your package also includes a 1-hour cruise on the Seine River, which you can take at any time during your stay. Admire the UNESCO-listed buildings lining the riverbanks, including the Eiffel Tower, Les Invalides, Notre-Dame de Paris, and the Conciergerie. Pass by charming houseboats and floating restaurants along the way.

Back on land, you can continue sightseeing by bus. A full loop takes around 2.5 hours without getting off, or you can hop off at any of the 10 stops.

Hop on Hop Off Big Bus Stops

• Tour Eiffel, Quai Branly (facing Pont d'Iéna)
• Champ de Mars, Avenue Joseph Bouvard
• Opéra Garnier, 15 Rue Scribe
• Louvre-Pyramide, Big Bus Information Center, 11 Avenue de l'Opéra
• Louvre-Pont des Arts (near Pont des Arts)
• Notre-Dame, Quai de Montebello (opposite Notre-Dame)
• Musée d'Orsay (opposite the Orsay Museum)
• Champs-Elysées, 156 Avenue des Champs-Elysées
• Grand Palais, Avenue Winston Churchill
• Trocadéro, Avenue Paul Doumer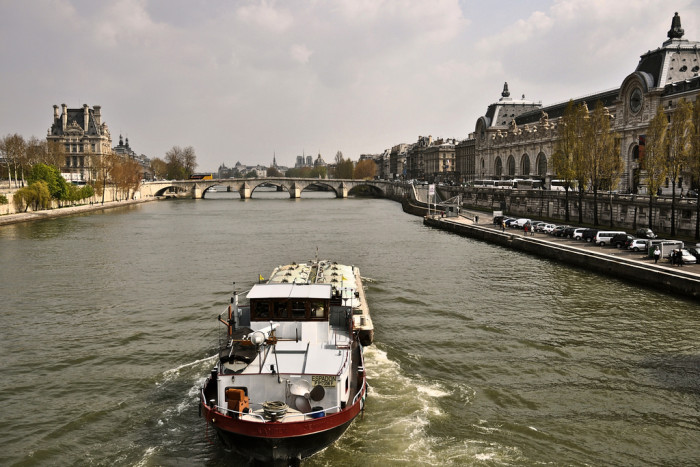 Intrinsic to the Paris' growth and the heart of this cosmopolitan city, the Seine river serves as the the ultimate reference point for the age-old Left Bank and Right Bank distinction. On this 2.5-hour Paris boat tour with a historian, we'll learn about the layout of the city and introduce its highlights from the perspective a Seine cruise. This is a perfect orientation to the city for anyone with reduced mobility, families, or those looking to get a city overview at a relaxed pace.
Experience the city and its highlights from a unique vantage point: a cruise on the river Seine.
Great for families and first-time visitors to Paris.
Paris boat tour with small groups—six people maximum.
Paris Boat Tour
Over 2,000 years ago, Paris was born as a humble fishing village on the banks of the Seine. Throughout the centuries, the city depended on the river for everything from washing and drinking water to trade and transportation. Even the city's municipal coat of arms, dating back to the 12th-century River Merchants' Guild, features a nautical motif.
On Dry Land
Our tour begins on foot on the the Île de la Cité, the oldest part of the city and its geographical center. A small metal plaque, set into the vast cobblestone square in front of Notre Dame (which we visit on our Notre Dame Tour), marks the Point Zéro, identifying the island as the city's historic center. Home to many medieval monuments including the Conciergerie, La Sainte Chapelle, and Notre Dame Cathedral, this ancient city center eventually grew into the cosmopolitan hotbed of arts and culture we know today. Here, we will explore how the city expanded from this central point onto both sides of the Seine during its existence as Lutetia, a Roman outpost. We will also look at the importance of Notre Dame and talk a little about its place in Parisian history.
On the Seine
After this initial introduction to the City of Light, we will board the Batobus, a municipal boat service that allows us to see some of the city's most beautiful monuments built on the river's edge. Taking in Paris' landscape from the Seine allows us to reflect on the city's historical progression from a bustling Roman city to France's political and cultural epicenter.
One of the first sites we will cruise by is the Musée du Louvre. Once palace of the kings, we engage with the immensity and splendor of this former royal residence, and may touch on the controversial role of royalty in French history. Now a world-class museum boasting masterpieces like Delacroix's Liberty Leading the People and Da Vinci's Mona Lisa, as well as lesser known yet stunning artifacts, this structure continues to play a significant role in the city's identity.
Following the bend of the river, we will then begin to pass by the structures built for the Expositions Universelles of 1889 and 1900. These elegant constructions were designed to showcase France's progress, and those that remain serve as architectural snapshots of belle époque design. Built close to the river, these stately buildings span a period of over 50 years, the different styles apparent in such buildings as the Musée d'Orsay, the Grand Palais, the Palais de Tokyo, and the Tour Eiffel, bien sur. During the expositions, visitors commuted between the venues by boat, and following their example, we will see these structures from their intended perspective.
"[Our docent] was bubbling with enthusiasm and appreciation for this beautiful city. He showed us favorite hidden spots and an informed view of the traditional highlights. His energy was contagious and his answers to questions very helpful. This is the perfect way to "meet" a new city!"
Take Aways
An excellent compliment to our other city orientations Left Bank Paris Tour and Right Bank Paris Walking Tour, this walk is accommodating to those looking for a more leisurely pace. As we float along the river, passing under some of the city's 37 unique bridges, and along the lively banks of the Seine you can also use your time with your docent to ask any questions you may have about Paris. This tour should provide a good introduction to Paris and prep for a more in-depth discovery of additional points of interest.
Interested in a tour by private boat? You may enjoy our private Seine River Cruise orientation experience in a luxury yacht.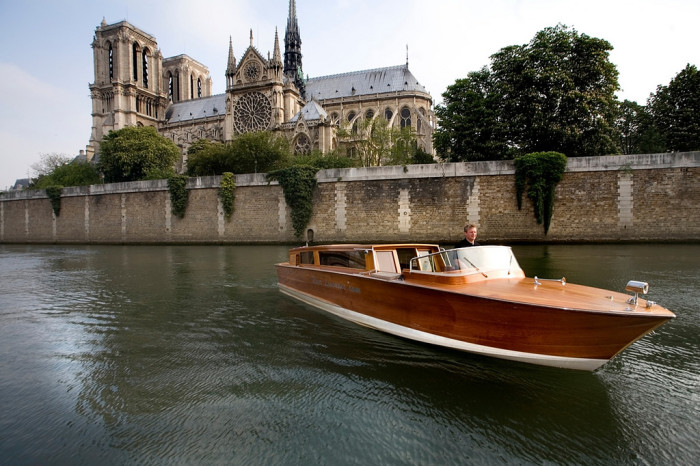 More than simply a division between Paris' Rive Gauche and Rive Droite, the river Seine acts as a point of reference for tourists and Parisians alike. Orient yourself to Paris' history, iconic architectural highlights—from Notre Dame to the Eiffel Tower—and the relaxed rhythm of daily life in the French capital on our Seine river cruise. This 2-hour private Paris tour by luxury yacht, led by a local scholar, contextualizes the architectural gems we pass within the sparkling, international metropolis of today.
See the highlights of Paris on a private Seine river cruise.
Private luxury yacht.
Ideal for those looking for a particularly memorable Paris city tour, or to mark a special occasion.
Private Paris Tour—Bienvenue!
Meeting at your lodging, we will travel together to the banks of the Seine, taking the pulse of the French capital on land. Arriving at the quai du Seine beside the ornately decorated Pont Alexander III, we will board our private yacht. As we meet our captain and settle in to our sumptuous leather banquettes, our docent, a local scholar, will provide a general historical overview of Paris, putting the city's centuries of narrative into context. Once a simple fishing village, Paris survived off of the fruits of the river, clustering around its banks. As such, It's fitting that the city's municipal coat of arms still bears the image of a boat tossed by waves, honoring its nautical past.
Seine River Cruise
Setting off, we'll cruise past some of the city's most iconic monuments and structures—le Grand Palais, le Pont des Arts, les Îles de la Cité and Saint-Louis, among many others—viewing them through the convertible roof of our boat. From this unique vantage point, we will note the scale of these structures. Together, we will discover Paris' story: from Roman outpost, to the seat of the French government and center of art and bustling industry. Gliding past the former site of the World Exposition of 1889 and 1900, we'll hear about the importance of these Fairs, as well as which "temporary" exposition buildings have stood the test of time.
Built close to the river, the style of these buildings span a period of over 50 years. Together, we will note the changes and advances in architectural styles in such buildings as the Musée d'Orsay, the Grand Palais, the Palais de Tokyo, and the Tour Eiffel, bien sur. Our time will be punctuated by the expert commentary of our docent, covering historical anecdotes, or answering questions about the city's layout and cultural customs.
Take Aways
In the shadow of the majestic tour Eiffel, we will conclude with a refreshing champagne toast, pairing the majesty of Paris' stunning architecture with the exceptional quality of its gustatory products. Together, we will end our discussion by answering any lingering questions about daily life in Paris, the history of the architectural marvels lining the Seine, and emerge with a better understanding of Paris' magnificent story.
Why not have your exclusive luxury cruise experience be documented for posterity by a professional photographer? We partner with Flytographer, an independent, innovative travel company with photographers based around the world. Contact us for more information.
Want an introduction to Paris firmly on dry land? See our Left Bank Paris Tour or Right Bank Paris Walking Tour.
(no rating)
More tours
Useful French phrases
Useful French for rail travel
English (anglais)
French (français) 
Pro-nun-cee-YAY-shun
Where is?
Où est?
ou eh
...train station
la gare
lah gar
train
train
traah
ticket
un billet
uhn bee-YAY
ticket counter
les guichet
lay ghee-SHAY
departures within the hour
départs dans l'heure
day-PAR dohn luhr
local departures
départs banlieue
day-PAR bahn-LYOO
long-distance departures
départs grandes lignes
day-PAR grahnd leenyh
departure time
heure de départ
uhr de day-PAR
arrival time
heure d'arrivée
urh dar-ree-YAV
first class
première classe
pruh-mee-YAIR klahs
second class
seconde classe
say-COHN-duh klahs
one way ticket
un billet simple
uhn bee-YAY SAHM-pluh
round trip (return) ticket
un billet aller-retour
uhn bee-YAY ah-LAY RAY-tour
I would like to reserve a seat
Je voudrais réserver une place
dzuh voo-DRAY RAY-sair-vay ooun plahs
I have a Eurailpass
J'ai Eurailpass
dzay ao-rail-PAHS
sleeping couchette
une couchette
ooun koo-SHET
berth in a sleeping car
une place en voiture-lit
ooune plahs uhn vwa-TOUR-lee
track
voie
or
quai
vwa
or
kay
car / carriage
voiture
vwa-TOUR
punch your ticket
composter de billet
cohm-poh-STAY de bee-YAY
departures
le départ
luh day-PAR
arrivals
l'arrivée
lah-ree-VAY
connection
correspondance
ko-ray-spon-DOHNZ
coming from
en provenance de
un pro-veh-NONS de
going to
a destination de
ah des-tee-nah-tzee-YOWN de
Is this the right platform for the Paris train?
Est-ce que c'est le quai pour le train de Paris?
es kuh say le kay poo-rh leh traah de pah-REE
delayed
en retard
hn ruh-TAR
information
information
een-for-mah-tzee-YOHN
left luggage
consigne
cone-sah-NYEH
exit
sortie
sohr-TEE
Useful French for air travel
| | | |
| --- | --- | --- |
| English (anglais) | French (français)   | Pro-nun-cee-YAY-shun |
| Where is... | Où est? | ou eh |
| ...the airport | l'aéroport | lair-oh-POR |
| the airplane | l'avion | lah-vee-YOHn |
| terminal | terminal | tehr-me-NAHL |
| flight | vol | vohl |
| gate | porte | pohrt |
| customs | douane | do-AHN |
| to the right | à droite | ah dwa-t |
| to the left | à gauche | ah go-sh |
| straight ahead | tout droit | too dwa |
| departures hall | Hall de départ | ahl de day-PAR |
| arrivals hall | Hall d'arrivée | ahl da-ree-VAY |
| exit | sortie | sohr-TEE |
| delayed | en retard | hn ruh-TAR |
| on time | à l'heure | ah LOUR |
| early | en avance | hn ah-VAHNS |
| check-in | l'enregistrement | lun-rej-ee-stray-MUN |
| immigration | l'immigration | lim-ee-grah-SYON |
| security check | le contrôle de sécurité | luh kon-TROLL de say-cure-ee-TAY |
| shuttle | la navette | lah na-VET |
| boarding pass | une carte d'embarquement | ooun kart dem-bark-eh-MUHn |
| baggage claim | la livraison des bagages | la lee-vray-SOHn day bah-GA-j |
| carry-on luggage | les bagages à main | lay bah-GA-j ah meh |
| checked luggage | les bagages enregistrés | lay bah-GA-j on-ray-jee-STRAY |
Useful French for car travel
English (anglais)
French (français) 
Pro-nun-cee-YAY-shun
car
une voiture
or
une auto
ouhn vwa-TOUR
or
ouhn ow-TOH
scooter/motorboke
une moto
ouhn mo-TOH
gas station
station-service
stah-see-YOHN sair-VEES
gas
de l'essence
deh lay-SAWNS
diesel
le gasolio
or
le gazole
leh gah-SOL-lyo
or
luh gag-ZOHL
Fill it up, please
faire le plein, s'il vous plaît
fair le plahn seel voo play
Where is...
Où est?
ou eh
...the highway
l'autoroute
lao-toh-ROOT
...the road
la route
lah root
...the street
la rue
lah roo
...the road for Paris

la route de Paris
lah root de pah-REE
to the right
à droite
ah dwa-t
to the left
à gauche
ah go-sh
keep going straight
tout droit
too dwa
to cross
traverser
trah-vair-SAY
toll
un péage
uhn PAY-ahj
parking
stationner
stah-see-yo-NAIR
road map
carte routière
kahrt roo-tee-YAIR
roundabout
rond point
rohn pwea
junction
carrefour
cah-ruh-FOUr

Typical road signs
| | |
| --- | --- |
| English (anglais) | French (français)  |
| Speed limit | Limit de vitesse |
| Slow down | Ralentissez |
| Stop | Arrêt |
| Exit  | Sortie |
| Give way | Cedez le passage |
| Give way to traffic coming from the left/right | Priorité à gauche / à droit |
| No passing | Interdiction de doubler/dépasser |
| One-way | Sens-unique |
| No entry | Sens interdit |
| Road closed | Route barrée |
| Detour | Déviation |
| Risk of ice | Verglas |
| Dead-end | Impasse |
| Speed camera | Radar de vitesse |
| Pedestrian crossing | Passage piéton |
| Parking prohibited | Stationnement interdit |
| Pedestrian zone | Zone piétonnne |
Basic phrases in French
| | | |
| --- | --- | --- |
| English (anglais) | French (français) | pro-nun-see-YAY-shun |
| thank you | merci | mair-SEE |
| please | s'il vous plaît | seel-vou-PLAY |
| yes | oui | wee |
| no | non | no |
| Do you speak English? | Parlez-vous anglais? | par-lay-VOU on-GLAY |
| I don't understand | Je ne comprende pas | zhuh nuh COHM-prohnd pah |
| I'm sorry | Je suis desolée | zhuh swee day-zoh-LAY |
| How much does it cost? | Combien coute? | coam-bee-YEHN koot |
| That's too much | C'est trop | say troh |
|   |   |   |
| Good day | Bonjour | bohn-SZOURH |
| Good evening | Bon soir | bohn SWAH |
| Good night | Bon nuit  | bohn NWEE |
| Goodbye | Au revoir | oh-ruh-VWAH |
| Excuse me (to get attention) | Excusez-moi | eh-skooze-ay-MWA |
| Excuse me (to get past someone) | Pardon | pah-rRDOHN |
| Where is? | Où est? | ou eh |
| ...the bathroom | la toilette | lah twah-LET |
| ...train station | la gare | lah gahr |
Days, months, and other calendar items in French
| | | |
| --- | --- | --- |
| English (anglais) | French (français) | Pro-nun-cee-YAY-shun |
| When is it open? | Quand est-il ouvert? | coan eh-TEEL oo-VAIR |
| When does it close? | Quand est l'heure de fermeture?   | coan eh lure duh fair-mah-TOUR |
| At what time... | à quelle heure... | ah kell uhre |
|   |   |   |
| Yesterday | hier | ee-AIR |
| Today | aujoud'hui | ow-zhuhr-DWEE |
| Tomorrow | demain | duh-MEHN |
| Day after tomorrow | après demain | ah-PRAY duh-MEHN |
|   |   |   |
| a day | un jour | ooun zhuhr |
| Monday | Lundí | luhn-DEE |
| Tuesday | Maredí | mar-DEE |
| Wednesday | Mercredi | mair-cray-DEE |
| Thursday | Jeudi | zhuh-DEE |
| Friday | Vendredi | vawn-druh-DEE |
| Saturday | Samedi | saam-DEE |
| Sunday | Dimanche | DEE-maansh |
|   |   |   |
| a month | un mois | ooun mwa |
| January | janvier | zhan-vee-YAIR |
| February | février | feh-vree-YAIR |
| March | mars | mahr |
| April | avril | ah-VREEL |
| May | mai | may |
| June | juin | zhuh-WAH |
| July | juillet | zhuh-LYAY |
| August | août | ah-WOOT |
| September | septembre | sep-TUHM-bruh |
| October | octobre | ok-TOE-bruh |
| November | novembre | noh-VAUM-bruh |
| December | décembre | day-SAHM-bruh |
Numbers in French
| | | |
| --- | --- | --- |
| English (anglais) | French (français) | Pro-nun-cee-YAY-shun |
| 1 | un | ehn |
| 2 | deux | douh |
| 3 | trois | twa |
| 4 | quatre | KAH-truh |
| 5 | cinq | sank |
| 6 | six | sees |
| 7 | sept | sehp |
| 8 | huit | hwhee |
| 9 | neuf | nuhf |
| 10 | dix | dees |
| 11 | onze | ownz |
| 12 | douze | dooz |
| 13 | treize | trehz |
| 14 | quatorze | kah-TOHRZ |
| 15 | quinze | cans |
| 16 | seize | sez |
| 17 | dix-sept | dee-SEP |
| 18 | dix-huit | dee-SWEE |
| 19 | dix-neuf | dee-SNEUHF |
| 20 | vingt | vahn |
| 21* | vingt et un * | vahnt eh UHN |
| 22* | vingt deux * | vahn douh |
| 23* | vingt trois * | vahn twa |
| 30 | trente | truhnt |
| 40 | quarante | kah-RAHNT |
| 50 | cinquante | sahn-KAHNT |
| 60 | soixante | swaa-SAHNT |
| 70 | soixante-dix ‡ | swa-sahnt-DEES |
| 80 | quatre-vents ‡ | kat-tra-VAHN |
| 90 | quatre-vents-dix ‡ | kat-tra-vanht-DEES |
| 100 | cent | sant |
| 1,000 | mille | meel |
| 5,000 | cinq mille | sank meel |
| 10,000 | dix mille | dees meel |

* You can form any number between 20 and 99 just like the examples for 21, 22, and 23. For x2–x9, just say the tens-place number (trente for 30, quarante for 40, etc.), then the ones-place number (35 is trente cinq; 66 is soixsante six). The only excpetion is for 21, 31, 41, etc. For x1, say the tens-place number followed by "...et un" (trente et un, quarante et un, etc.).
‡ Yes, the French count very strangely once they get past 69. Rather than some version of "seventy,' they instead say "sixy-ten" (followed by "sixty-eleven," "sixty-twelve,' etc. up to "sixty-nineteen.") And then, just to keep things interesting, they chenge it up again and, for 80, say 'four twenties"—which always make me thinks of blackbirds baked in a pie for some reason. Ninety becomes "four-twenties-ten" and so on up to "four-nineties-ninteen" for 99, which is quite a mouthful: quartre-vingts-dix-neuf.